COURSES
Do your Courses meet my State Registration requirements?
Yes. Architects Parti is proud to be an American Institute of Architects Registered Provider (AIA #50119821) and all of our courses are readily accepted by state licensing boards. However, some states have special requirements that go beyond AIA/CES requirements (In New York for example, half of the CE hours taken must be what they call "Interactive"). For verification of your specific requirements, please review the State Requirements map provided by the AIA.
What does HSW stand for?
Health, Safety, and Welfare
Architects in states with mandatory continuing education (MCE) requirements for license renewal are required to complete a minimum number of hours of HSW-related training. Because many architects are required to take HSW courses and these courses are in high demand, all of our courses are HSW approved.
Do your courses count as CEU's?
Yes. Often the term CEU or Continuing Education Unit is used generically for credit hours. AIA requires the term LU, or Learning Unit, be used and some states use PDH, or Professional Development Hours. For all practical purposes the terms are interchangeable.
Are your courses online?
Yes. Our courses are 100% online and can be accessed from any device – smart phones, tablets, laptops or desktop computers connected to the internet.
How do I access my courses?
Log in, click My Portfolio, click My Courses

You will see the list of courses you have access to under My Courses.
Click the Course Title you wish to take.

Once inside the course, click Lesson 1 to begin the course.

Click the PRINT MY CERTIFICATE button upon completion of Quiz 2.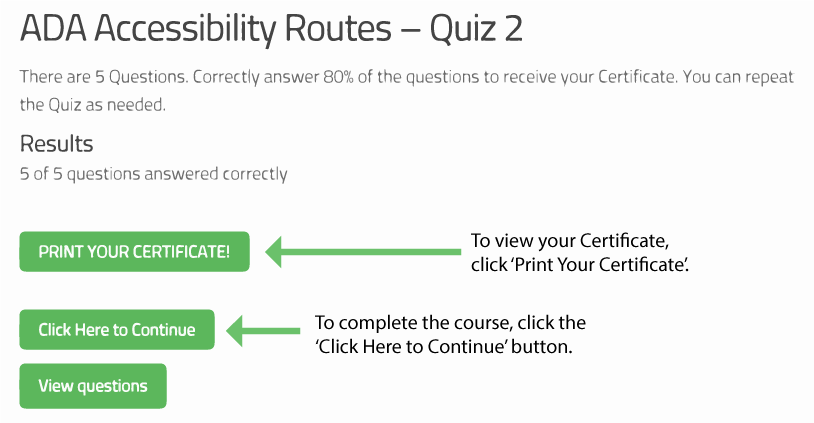 To complete the course, click the Click Here to Continue button.
Go to My Courses to take another course.
Can I pause a Course and finish later?
Yes. Courses are organized in lessons that are 10 to 15 minutes long. You can stop when you finish a Course Lesson and come back, picking up with the courses next Lesson.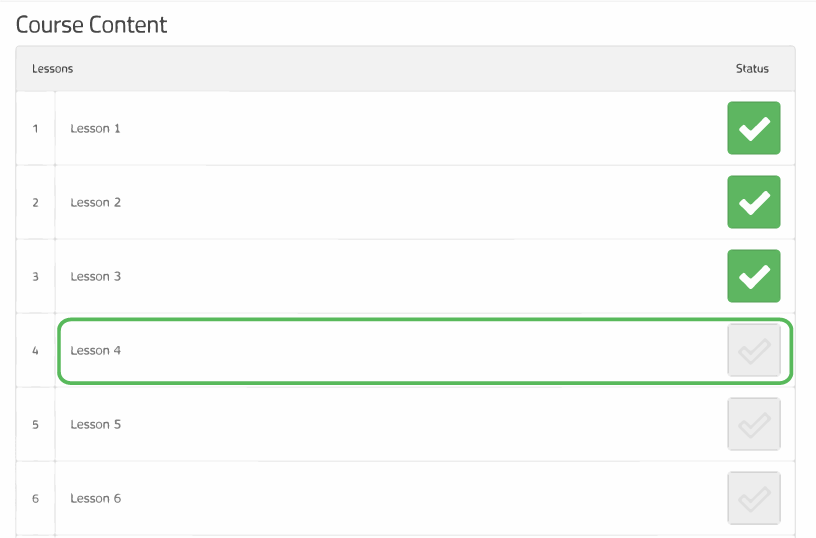 How do I get my Free 2 Hour course?
After logging in, go to the Catalog page.
Once you find the course you wish to take, select Take This Course (You will notice the price will be marked at $0).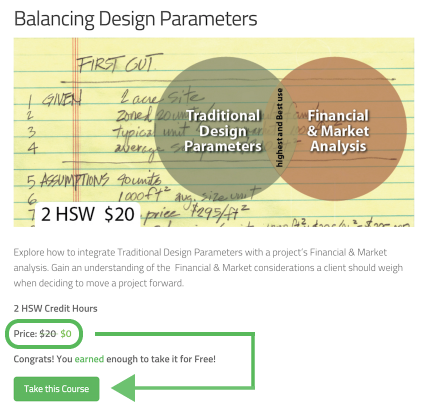 The course will be added to your My Courses portfolio.
Why can I only take 12 hours of Continuing Education a day?
AIA Providers are required to limit the number of hours taken to 12 hours a day.
To maintain the quality of instruction and knowledge retention, AIA Providers are required to limit the number of hours attendees can take per day to 12 hours. You may purchase as many courses as you want at a given time, but once you have completed 12 hours in a day, your other courses will lock until the following day (at midnight). This is to ensure you do not exceed the 12-hour limit.
Is the Advanced Florida Building Code course approved by DBPR?
Yes and by AIA
Our Advanced FBC course is approved by the Florida Department of Business and Professional Regulation (DBPR). Our DBPR Provider Number is 0004977 and the Florida course approval number is 791.0. Click here to view our Florida Continuing Education Provider License showing our approved FBC course. This course is also approved by the AIA (American Institute of Architects) for 2 continuing education hours.
---
REGISTRATION
Why do I need to Register?
So you can get your Certificate, immediately!
There are several important benefits in addition to receiving your Certificate immediately upon completing the course.
If you leave a course in progress, you can return and pick up where you left off.
You'll have a complete list of the courses you've taken to help ensure you don't retake a course and to track when and what you've taken.
You'll be able to reprint your Certificates of Completion anytime you need.
How do I Register?
Click the Register link
The Register link is in the top right corner of the menu bar.

Fill out the Registration form and click Register. NOTE: Please make sure to enter in your State(s) Registration Number and AIA Member Number (if applicable).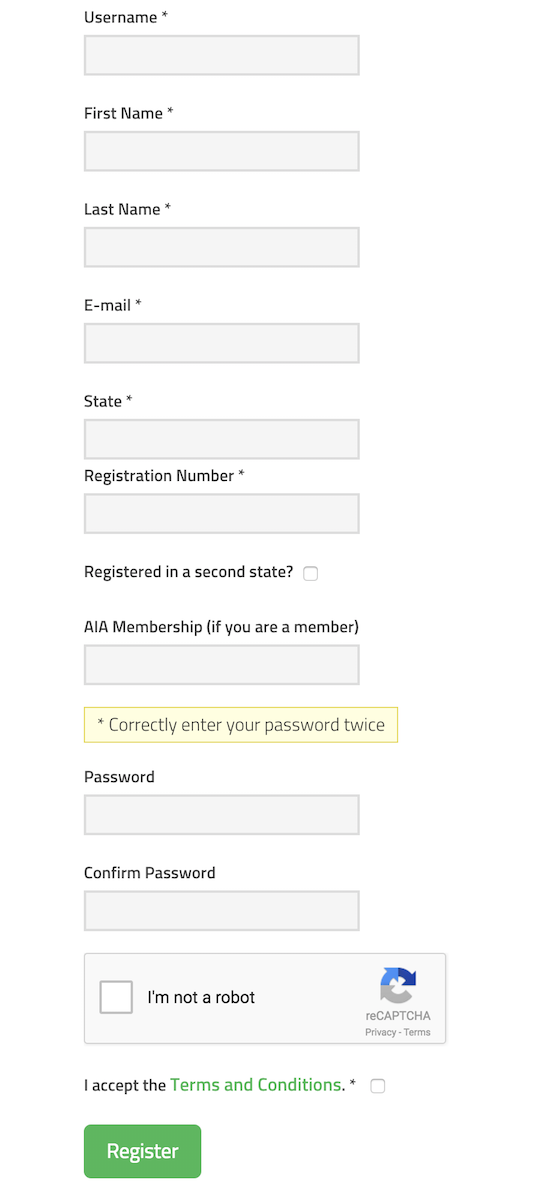 You MUST Activate your account. An activation link will be sent to your email address (email title: Architects Parti – Activate Account). Click on the emailed link to complete the registration process.

If you do not see the email, please refresh your mailbox and check your Spam folder.
I did not receive an Activation Email. What should I do?
First, check your email inbox and your Spam box. Sometimes it may take a minute for the email to send and depending on your email settings, it could go to your Spam box. If you do not see the email, go to the Login page and try to login. You will receive an Activation error message. Click the Resend Activation link to send a new email. If you are still experiencing issues, please contact us and we will assist you with the Activation process.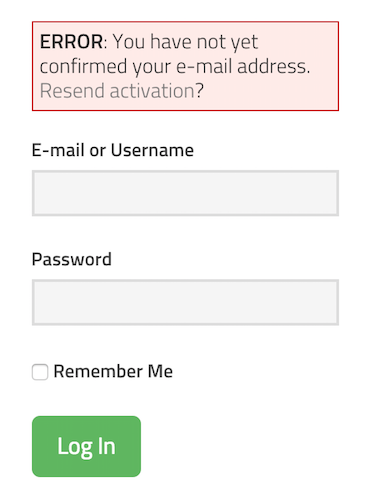 Why am I receiving an error message saying I'm already registered?
If you receive an error message saying your information is already used or you are already registered, you may be on the wrong page. First, make sure you are on the Login page and not the Register page. We would recommend going to the Login page and entering your Username and Password to see if you already have an account created. You may see an error message pop up saying – 1) You need to Activate your Account, or 2) There is no Account with this information. If you see the Activate error message, simply click the link to resend the Activation email and follow the appropriate steps to Activate your account. If you are still experiencing issues, contact us with the exact error message you are receiving and we will be in touch to resolve your issue.
---
PAYMENTS
How do you handle payments?
Pay online using our integrated, secure PayPal system
You have two options:
Option 1. – use your PayPal account. (If you don't have one, they're easy to set up. The advantage of having an account is you won't need to provide your personal information for each purchase).
Option 2. – use PayPal's secure Credit Card payment process.
Do I need a PayPal Account to pay for courses?
No.
If you do not have a PayPal Account and do not want to set one up, don't worry. You can use PayPal's secure Credit Card payment process to pay for your courses.
When do I pay and get access to the course?
After you select a course from our Course Catalog
Once you select a course you'll be directed to the PayPal payment page. Once you've paid, the course you purchased will automatically be added to your My Courses page.
---
CERTIFICATE
When do I get my Certificate of Completion?
Immediately after you complete the Quiz 2
With a score of 80% or higher on Quiz 2, you can download a PDF copy of your Certificate. We also maintain a database of your Certificates that you can access using the My Courses link.
Can I Reprint my Certificate?
Yes.
Just Log In, then;
Select My Courses to access your completed courses.

Click the gray triangle to the left of the Course Title to show the course's detail. Then click the Certificate Icon to view and Print your Certificate.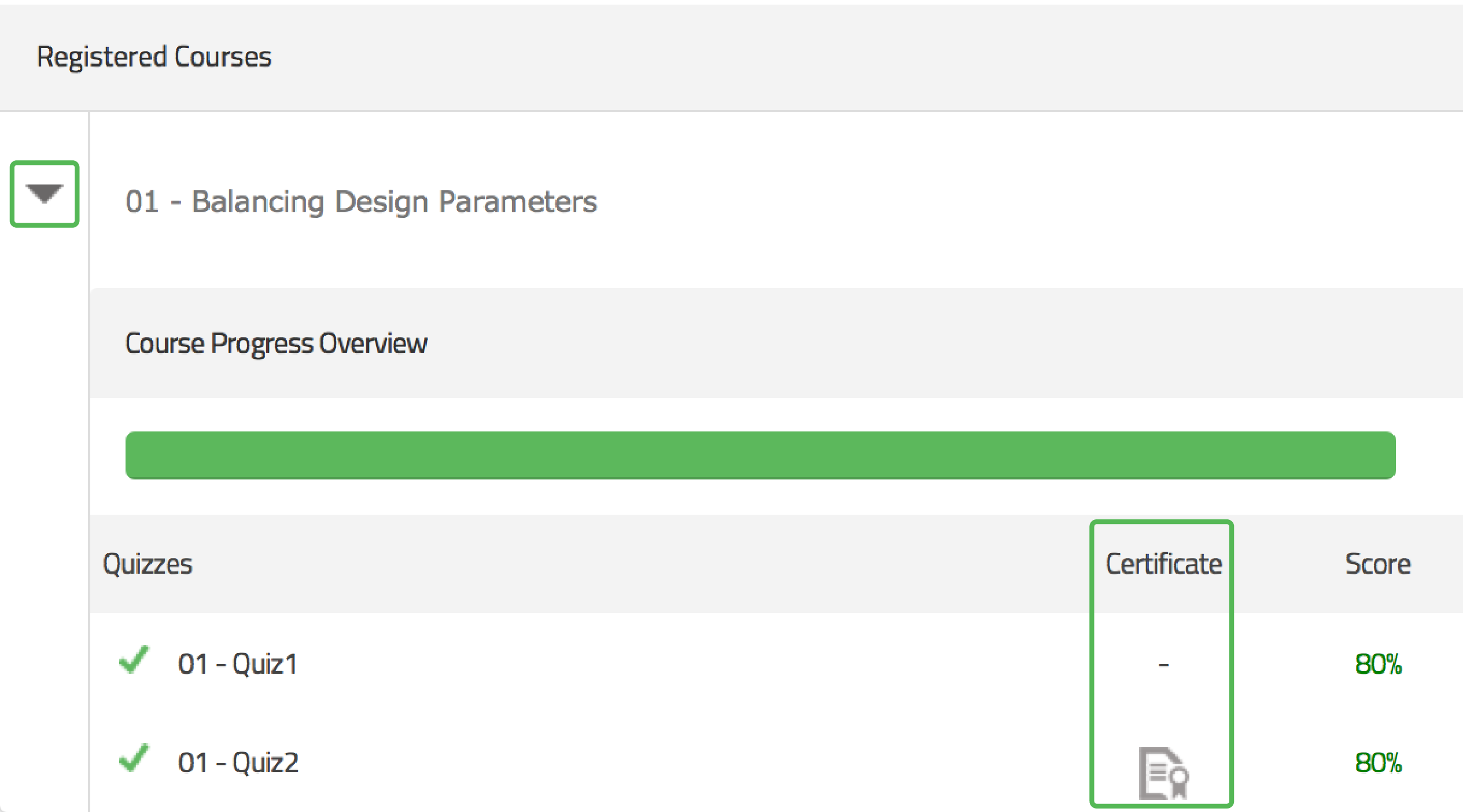 ---
TECHNICAL
How do I reset my Password?
Go to the Login page and click Reset My Password.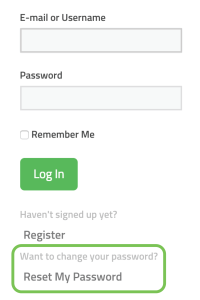 Enter in your email and click Get New Password.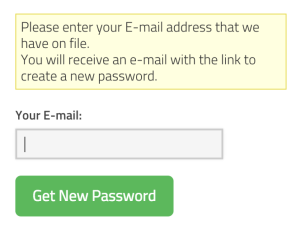 You will receive an email titled 'Architects Parti – Reset Password'.  Click the URL to reset your Password.
Enter in a new Password, Confirm it and click Reset Password.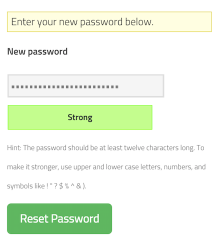 Now you are ready to Login!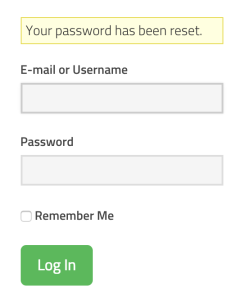 How do I change my Password?
After logging in, go to My Portfolio and click My Profile.
Scroll to the bottom and click the Generate Password button.
For security reasons this will provide you with a password. We recommend that you change this to something you will remember.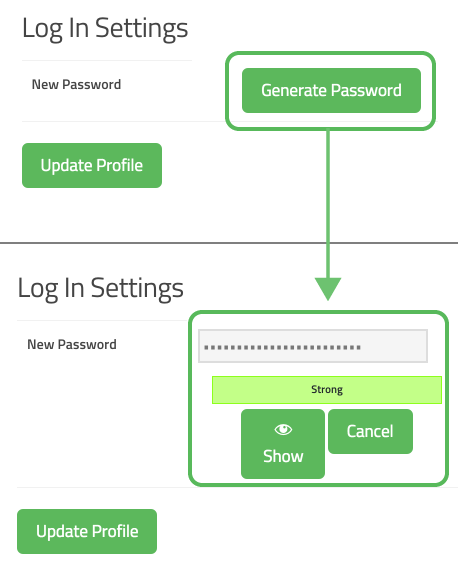 You may need to check the Confirm use of weak password box. This is just a security measure so you understand your password is not considered "strong".
Click Update Profile and you are all set!
I'm locked out of my Account. What do I do?
We have security measures in place to lock accounts when there are 5 login attempts.
You will receive the following message after the fifth attempt.
'An email will be sent to you to unlock your account immediately.'
NOTE: It may take a minute for this email to appear.
Once you click the unlock link in the email, you will be redirected to the login page to try again.
We strongly recommend that you click the Reset My Password link at the bottom of the login page to reset your password at this time.
How do I change my personal information?
To update/change your personal information Login and go to My Profile. There you will be able to update your personal information (i.e. email address, name, password, etc.). Click Update Profile to save the changes.
---
REPORTING
Why don't you report my completed continuing education hours to my licensing board(s) and/or professional organization?
Not all licensing boards and organizations require, or even want, us to report your completed continuing education hours. Many only ask for proof of completion if you are audited. We can only report to the boards and organizations when required to do so (for example, we must submit all course completions to the AIA database if you are a registered AIA Member).
I'm an AIA member. Do you post my course completion in the AIA database?
Yes. After you've completed the course, we'll access the AIA Continuing Education System database and upload your course completion data. It should be viewable within 24 hours.